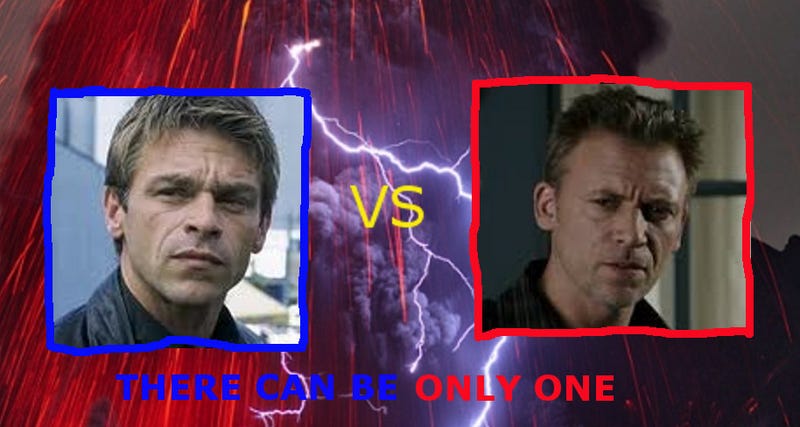 I think this needs to happen, for all of us who are eternally getting these two actors mixed up. Two will enter, only one will emerge from the great lava-exploding, lightning-striking, mud-flinging Thunderdome of Canadian Theatre.
In the blue corner, we have Ian Tracey (b. 1964 on Vancouver Island), repeat veteran of DaVinci's Inquest/City Hall, Bates Motel, and Continuum, who has also played parts on Beachcombers, Street Legal, 21 Jump Street, Danger Bay, Neon Rider, The X-Files, The Outer Limits, and yes, Highlander the tv series! For fans of Canadian legal blunders, he played David Milgaard in the made-for-tv movie. More recently, he played Ludlow in Man of Steel (I admit that I can't remember the character - but I know I will have noticed him when I saw him!).
And in the red corner, British-born, Alberta-raised (b. 1960) Callum Keith Rennie, also of DaVinci's Inquest, the X-Files, and The Outer Limits, and yes, he too was on Highlander the tv series! Mockumentary fans will recognize him from Hard Core Logo; other kinds of fans from Due South and Twitch City. On the big screen, we've seen him in Blade: Trinity, Paycheck, and Memento; recent tv credits includ Rookie Blue, The Killing, Californication, and The Firm. Upcoming: he's credited as Ray Steele in Fifty Shades of Grey!
And holy Moses! We can watch them fight it out for real when the Satanic horror movie Hell in a Handbag comes out sometime this year! Unfortunately they're on the same side in the movie, Rennie as a Russian bodyguard and Tracey as a vampire, but maybe there's some disagreement before they realize they're friends?
Which blonde-haired, deeply-grooved face will survive to represent Canada's character actors on the world stage? Who has your bets? What odds are you getting? Do we need to appeal to Judge Kinja or can we reach consensus like the polite Canadians we are?